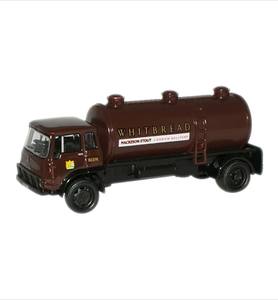 The Bedford TK was produced by the Vauxhall-owned Bedford company. It was introduced in 1959 and had a variety of uses, including fire engines, military vehicles, flatbed trucks and other specialist utility vehicles. The letter 'T' stood for 'Truck'.
It epitomised the perfect lightweight truck and remained so until the end of the 1970s. Available as a rigid truck as well as a tractor unit, it proved very versatile and its longevity speaks for itself, as it is still used in some developing countries even today.
This period Whitbread tanker in the authentic colours of brown and gold, is advertising Mackeson Stout, made under licence by the Whitbread Brewery.
The Whitbread story goes back to 1742 when Samuel Whitbread went into partnership with a small London brewer, Thomas Shewell. In 1765 Whitbread bought out Thomas Shewell and by the end of the century, the company had become London's top brewery, producing almost a quarter of a million barrels.
Today the Whitbread Empire is huge, having extended as a UK-based hospitality company as well as a brewer.