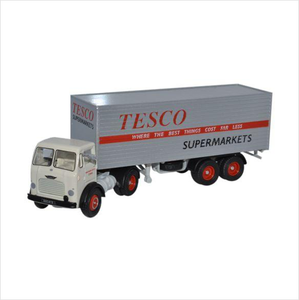 You would be right if you thought you had seen this Leyland Box Trailer model before. Oxford produced it as a 'special' for a customer previously, so to release it again for collectors generally is a bonus.
The nostalgic period livery takes us back to the early days of Tesco Supermarkets with the retro graphics printed boldly on the silver container sides and back doors.
The trailer chassis is painted in pale grey while the cab looks very fresh in pale cream with red graphics and silver door handles.
The Leyland badge is faithfully replicated between the split windscreen and the pale cream radiator grille. Registered 665 MTB, this early truck deserves a place on your 1:76 scale lorry shelf.