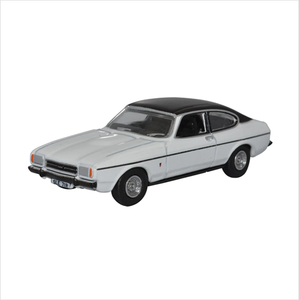 The successor to the Ford Capri Mk.1, the Mk.2 was launched in 1974 and production lasted until 1978, although UK manufacture stopped in 1976. It came with a shorter bonnet but with a longer body, larger interior with modified dashboard and a smaller steering wheel.
A Ford innovation for its time was the rear hatchback which opened up to a very large boot. Another distinctive feature comprised the large rectangular headlight configuration. Other than the physical upgrade, the Mk.2 which came with a standard 4-speed manual or 3-speed automatic gearbox, now had the option of a 5-speed manual gearbox with a further choice of the then new Ford C3 automatic transmission.
The basic top speed on the 1300 cc model was 89 mph rising to 130 mph for the top of the range 3000cc V6 version. The Mk.2 proved a popular and very reliable car which Ford had deliberately aimed at the everyday motorist. Their maxim paid off as in the last year of production, over half a million of the marque were sold. The Mk.3 was already waiting in the wings!
For its third appearance, our Capri Mk.2 is decorated in a stunning white colour scheme with black 'vinyl' roof and black external trim including black coachlines along the waist. The interior is also finished in black. Registered SLE 71R from 1976, additional external trim includes silver beading round the windows, silver door handles, wheel hubs and headlight surrounds.
Add this sparkling white model to the colourful line-up of lime green and Sahara gold versions released earlier on the Mk.2.