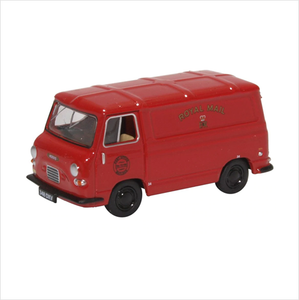 The MorrisCommercialJ4was a 10 cwt (0.5 ton) forward-control van launched by Morris Commercial in 1960 and produced with various upgrades during its lifetime.
The van was marketed first as both theMorris J4 and the AustinJ4, following the formation of the British Leyland Motor Corporation in 1968, which absorbed BMC, the British MotorCorporation.
As a result, the J4 was also called the Morris 10/12 cwt. External changes to the J4 over the years included the supply of a diesel engine, so a 'BMC diesel' badge was fitted to the front; from 1967 to 1974 the rear doors were unglazed - probably only specified by the GPO and Post Office.
From 1969 the front Morris badges were replaced with heavy stainless steel Morris badging. This changed again a year later when the large Morris badge was replaced with the small chrome AUSTIN MORRIS badge.
Its style and capacity made it a great favourite as a delivery van and it became a familiar sight on British streets, used in particularly by the Royal Mail, those days under the GPO/ Post Office, who bought the original BMC J4 design from the early days in 1961 and stayed with it right until 1974. The Morris J4 was also a successful light commercial fleet vehicle, even against its main rival the newly introduced Ford Transit.
This van sports the Royal Mail livery from 1962-1965 with glazed rear windows and lowly placed registration plates. Registered 348 DXV and in the traditional Post Office/Royal Mail red, the van comes with black trim and a cream interior.
The Morris badge takes pride of place on the front below the windscreen while the black lettering on the van doors indicates that it worked as Number 73185 out of the Matlock Post Office in Derbyshire.
Given the varied roles and refinements of this useful little commercial van, we look forward to a wealth of liveries in the near future.