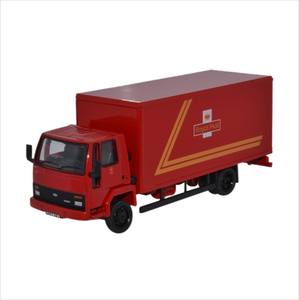 Launched in 1981 by Ford UK, the Ford Cargo was a popular haulage option used by many large companies and continued until 1986 under the Ford name until they sold on their European truck operations to an Italian company IVECO, at which point all models carried the dual name.
Dating from 1990 and registered G853 AMJ, our Ford Cargo Box Van with its Ford Iveco branding on the front, represents a vehicle used extensively by the Royal Mail, decorated in its signature bright red with Royal Cypher and Royal Mail lettering/yellow zigzag flash to the sides of the trailer.
The rear carries the slogan 'Please use your Postcode' - which probably people needed reminding about in those days, before the days of SatNav where postcodes are now essential!
This release is a nice addition to your Royal Mail timeline collection featuring this great British institution.