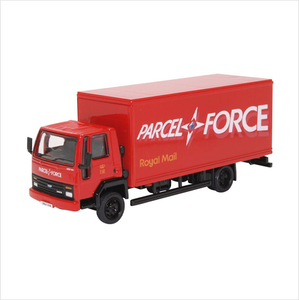 From its launch in 1981 right up the present day, the Ford Cargo has been the perfect box van for deliveries, truck rentals, small removals and the like, taking advantage of its solidity, roomy storage and ease of loading and unloading.
Here we see it as used by Royal Mail's Parcelforce Division, registered J984 NVM from 1991/92, featuring their corporate identity of the day together with compass in blue and white dropped shadow on the red truck body.
The name, telephone number and slogan 'The Power to Deliver' are all printed across the back doors with external trim finished in black.
The 1:76 scale truck will not only appeal to Royal Mail enthusiasts but would sit well in a 00 gauge railway yard too.