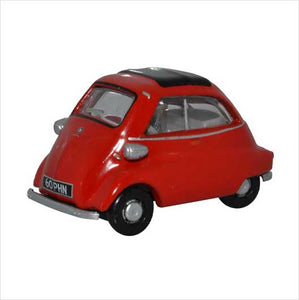 Arguably the first micro-car to earn the Bubble Car nickname due its shape and bubble type windows, the German manufacturer BMW produced the Isetta under licence, as did several other countries. You will notice the BMW logo printed on the front centre opening door.
The Isetta was first introduced in the 1950s and incredibly was the first vehicle to achieve 94 mph which in retrospect must have been a terrifying experience for anyone in it, although unlike other bubble cars, it had four wheels! It was also the world's top selling single cylinder car at the time and when production ended in 1962 over 161,000 had been produced.
The Isetta makes its latest Oxford appearance decorated in signal red registered 60 PHN. It features a black sunroof and external trim is finished in silver.