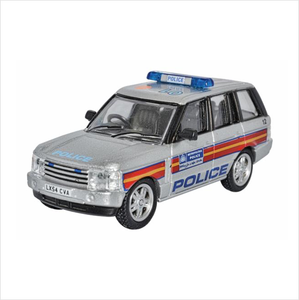 Land Rover introduced the new 3rd generation Range Rover in 2002 and it continued in production until 2012. The five-door SUV was planned and developed under BMW ownership and this Range Rover, also known as the L322, shared BMWs high end vehicle components and systems. It came with a petrol engine and was only available as an automatic.
Registered LX54 CVA from the second half of 2004, the fourth release in the Oxford 1:76 scale series is based on a car which in real life would have had a 5-speed automatic gearbox. In addition, its high spec status is confirmed with the silver HSE (High Specification Equipment) lettering printed to the right of the rear number plate, so the Metropolitan Police would have seen it as an ideal vehicle to serve them with speed and efficiency throughout the capital.
Decorated in silver with the red and yellow Police banding along the sides encased in a fine blue surround, the four door vehicle features the Metropolitan Police logo and strap-line 'Working for a Safer London' on the front doors while the rear is printed with the usual red and yellow hazard chevrons.
The detailed roof carries a blue and white Police light bar as well as vehicle identification numbering so it can be easily spotted from the air. An interesting detail sees two blue lights embedded into the black and silver radiator grille. Other external trim is also finished in black or silver and the interior is moulded in black too.