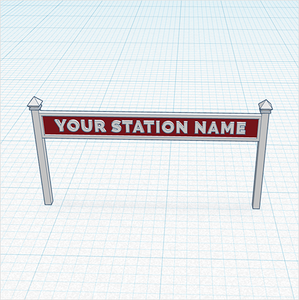 A three-pack of high quality, detailed 3D printed single-sided custom steam-era station signs in OO | 1:76 scale. Station signs are supplied unpainted and printed in grey ABS-like resin.
Each pack contains: 3 x single-sided name board, 6 x posts.
Ready for you to paint and weather with acrylic paints. Our station signs are much more detailed and better quality 3D prints than some of our competitors' products.
Use them on your layout to add to realistic station scenes.
Note: As these are custom products that need to be produced, 3D printed and cured they take longer to dispatch than our off-the-shelf products.
Dimensions
Name board
Height: 7.17mm
Width: Dependent on station name
Depth: 1.34mm
Posts
Height: 31.93mm (can be cut down if needed)
Width: 2.91mm
Depth: 2.91mm