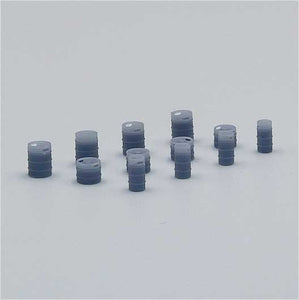 This 12-pack of OO | 1:76 scale beer kegs is perfect for creating a realistic pub or warehouse scene.
Printed in grey ABS-like resin, the high quality 3D-printed kegs come unpainted and ready for you to personalise with acrylic paint and weathering mediums.
The kegs are a mix of full-size and half-size beer kegs.
Each pack contains:
4 x full-size beer kegs
4X short half-size beer kegs
4 x tall half-size beer kegs
Dimensions
Full-size beer kegs
Height: 8.15mm
Width: 5.37mm
Depth: 5.37mm
Short half-size beer kegs
Height: 5.55mm
Width: 5.37mm
Depth: 5.37mm
Tall half-size beer kegs
Height: 8.15mm
Width: 3.71mm
Depth: 3.71mm